Undergraduate Studies
The Department of Computer Science offers undergraduate majors in Computer Science as part of Bachelor of Science (B.S.) and Bachelor of Arts (B.A.) degree programs. The B.S. augments the B.A. with more computer science, mathematics, and experimental laboratory courses. In addition, the Department offers four undergraduate minors in Computer Science, Computer Information Technology (CIT), Computational Linguistics, and Financial Modeling. This page contains information about each of these options.
For students not majoring or minoring in Computer Science, CSCI 12 provides an understanding of how problems are formulated for solution by a personal computer using popular software packages. CSCI 111 teaches introductory programming for students who have never used a computer, and serves as a first course for students considering a major or minor in computer science. See the
Courses and Schedule
page for more details about these courses.
Admissions and Financial Aid
For information on undergraduate admissions, you should first consult the Queens College
Office of Undergraduate Admissions
. For other questions about computer science, you may also
contact
the Department of Computer Science main office. Additional Queens College resources include:
Current Students: Stay Informed
Additional Resources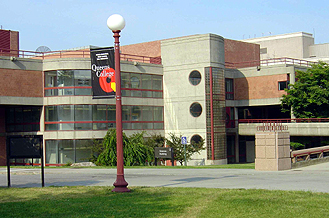 The Computer Science department is housed in the Science Building (SB) on the Queens College campus.
Curriculum
Older curricular details are included below as a reference for those students who entered the degree program in the past.
Curriculum 2004
Curriculum 2001
Curriculum Prior to 2001